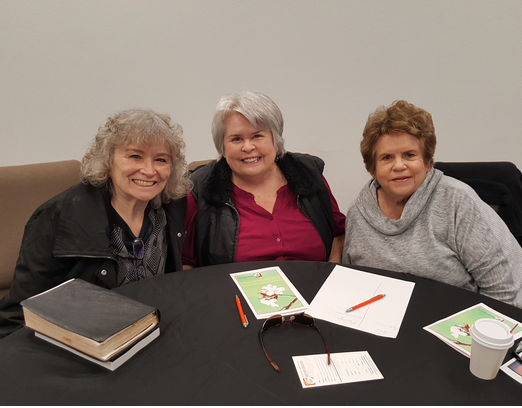 WELCOME G.A.L.S TO WOMEN'S MINISTRY
(Ages high-school and up.)
Scroll down and see what we have going on!
JOIN US AT ONE OF OUR UP-COMING EVENTS
She Is Chosen - Women's Conference
On September 23rd-24th 2022, hundreds of women from up and down the west coast will gather together for one amazing conference. This conference is going to be a hybrid between live in person and a simulcast event.
We will have six locations up and down the region where a multitude of ladies will be worshipping all at the same time! Our vision is to bring a dynamic conference closer to home to keep costs and travel time at a minimum. It will be refreshing two days with anointed worship, a powerful word from Crystal Sparks a humorous time with Anita Renfro and many workshops to strengthen the women of our region.
The SHE IS conference will send you out encouraged and empowered to be the beautiful woman of God he's created you to be. In Deuteronomy 14:2 the Lord declares that He has chosen you to be his treasured possession!
So gather your best friends and family members and register today!
Registration is only $49 (includes Saturday lunch) BE SURE TO CHOOSE THE CONCORD, CA LOCATION IF YOU ARE LOCAL.
Register by clicking on the link below: www.pacificopenbible.com/connect/events
Experiencing God Bible Study
Beginning Tuesday, July 25 at 6:45 pm Pastor Terrie Price and Graham Seel will begin a bible study for six weeks that will be open to everyone in the church. Following a video presentation, the men and women will break-off into their own groups to discuss that week's study. The topics for this study will include the following:
God's Will for Your Life
2. Looking to God
3. God Pursues a Love Relationship
4. Love and God's Invitation
5. God Speaks, Part 1
6. God Speaks, Part 2
7. The Crisis of Belief
8. Adjusting Your Life to God
9. Experiencing God Through Obedience
10. God's Will and the Church
11. Kingdom People
12. Experiencing God in Your Daily Life
There is a book that will be available for purchase. Please let us know if you are interested in attending so we can be sure to order enough books for everyone. You can REGISTER HERE or at the event table on Sunday morning.
GEN g.a.l.s. (Godly and loving sisters)- generations church women's ministry
Please join us! You can begin at any time!
We are a community of sisters who love to come together to encourage and grow in our relationships with each other and with our Lord and Savior.

We offer a variety of ways to build relationships with one another through community groups such as Bible Studies, events, workshops, and fun activities.